Burrow Farm is a 350 acre traditional mixed farm in the heart of Devon. The Grigg family starting farming here as tenant farmers in 2007. The farm has been part of the National Trust's Killerton Estate since 1842.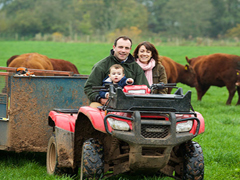 The farm is home to a herd of Red Ruby Devon cattle, a native breed which produces quality beef to the highest environmental and animal welfare standards, enabling Burrow Farm to become RSPCA assured (formerly Freedom Food accreditation). The beef is sold from the Burrow Farm butchers shop in Exeter and also at local farmers markets.
A large part of the farm enterprise is growing arable crops, and winter wheat, winter oats and spring barley are all grown here in rotation. The wheat is sold for milling which is then eventually made into bread. Oats are sold to a breakfast cereal company who process them to make porridge oats and the barley crop feeds the Burrow Farm cattle during the winter months.
The farm has recently become part of the Environmental Stewardship Scheme funded by Natural England. This means that the Griggs are committed to preserving the countryside and encouraging wildlife onto the farm.